With infusion therapy, medication is delivered intravenously. We currently infuse Tysabri, Solumedrol, and Ocrevus, which are prescription medicines approved for adult patients with relapsing forms of multiple sclerosis (MS). We also infuse a new medication called Vyempti for the treatment of migraines. It helps slow the worsening of disability and decrease the number of flare-ups (relapses).
The Tysabri infusion takes an hour with an additional observational period and Ocrevus is approximately 4 hours with additional post infusion observation.
Our Infusion Nurse: Lissa Anderson, RN, BSN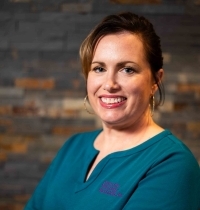 Lissa serves as our Infusion Nurse and has been with us for the past 12 years, since October of 2007. She administered our first infusion at ANS (one of Dr. Armstrong's patients). Lissa graduated from St. Catherine's College in St. Paul, MN with a Bachelor's degree in Nursing. After getting married, she and her husband moved to Colorado, where she worked as an ER nurse for 10 years. Following her husband's parents, they decided to relocate to WNC in search of new job opportunities and to stay close to their family. This search eventually led her to Asheville Neurology Specialists. Lissa also works with the elderly at Universal Health Care in Fletcher as a staff nurse part-time.
Lissa has two boys Brett, age 18 and Zac, age 13 as well as a beautiful golden retriever named Lily, which all keep her very busy. Some of Lissa's interests include skiing, traveling, and trying new restaurants.
Infusion Resources and Helpful Information
TYSABRI
By joining Above MS, you'll get tips, tools, and personalized assistance for your MS, including:
Specially tailored information from people who are living with relapsing MS
Insights from expert contributors in fields such as financial planning, cooking, exercise, and many other areas
Free access by phone to Nurse Educators 24/7
A variety of financial and insurance support services, and our $0 Copay Program (if you're eligible)
Information about TYSABRI, the TOUCH® Prescribing Program, and support services
TOUCH monitors risk for patients taking TYSABRI and enables them to receive free JC Virus testing
Information about TYSABRI treatment and support services
Help finding assistance via charitable organizations to cover items such as insurance premiums, copays, and transportation needs
Educational webinars and live events in your area
Support is available in Spanish


Location & Hours
731 Dogwood Rd, Asheville, NC 28806
Get Directions
M-Th  8am – 5pm
Fri  8am- 2:30pm
See Dr. Patton's profile on Healthgrades.