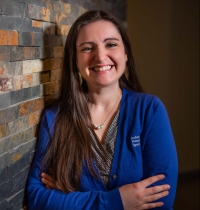 Nikki Madle
Practice Operations Manager
Nikki Madle serves as our Practice Operations Manager and has been with Asheville Neurology since 2018.  She is responsible for OSHA and HIPAA compliance and provides  necessary annual training for ANS Staff. She is also responsible for the hiring, on-boarding, orientation and the performance management of all staff members. Most recently, she created the Diversity and Inclusion Committee at ANS, which has already created a timeline for 2020 with the overall goal of  improving access and health equity for our patients and their families regardless of their backgrounds. She cares very deeply about improving access to health care for people of all backgrounds and identities. She is excited to be involved in the training of all staff members on cultural sensitivity.
Nikki graduated from UNC Asheville in 2017, with a Bachelor's of Science in Health and Wellness Promotion and became a Notary Public in April of 2019. She has a strong background in Crisis Intervention and Counseling because of her years of service as a Rape Crisis Advocate with Our VOICE Rape Crisis Center . During her time as an advocate, she went to the ER to sit with survivors of sexual assault as they underwent rape-kits and/or received medical attention. Although she is not currently doing crisis response work, she is still passionate about the prevention of sexual violence and continues advocacy through education.
In her free time, she is an avid Salsa, Bachata and Kizomba dancer and loves to go out social dancing. She is currently undertaking the challenge of learning to speak Spanish and her dream is to become fluent in the language.